Part Number : Z0103
Function : Standard 1A, 600V, Triac
Package : TO-92, SOT-223, SMBflast-3L Type
Maker : STMicroelectronics

Pinouts :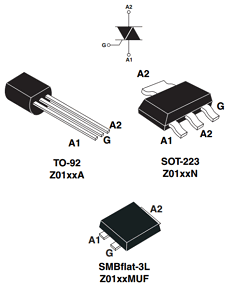 Description :

Passivated triacs in conventional and surface mounting packages. Intended for use inapplications requiring high bidirectional transient and blocking voltage capability.Available in a range of gate current sensitivities for optimum performance.
The Z01 series is suitable for general purpose AC switching applications. These devices are
typically used in applications such as home appliances (electrovalve, pump, door lock, small
lamp control), fan speed controllers,...

Different gate current sensitivities are available, allowing optimized performance when driven
directly through microcontrollers.


Features
• On-state rms current, IT(RMS) 1 A
• Repetitive peak off-state voltage, VDRM/VRRM 600 or 800 V
• Triggering gate current, IGT (Q1) 3 to 25 mA
Applications
• AC switching
• Home appliances

Datasheet PDF Download :




Others datasheet of same file :

Z0103MA, Z0103MA1AA2, Z0103MA1AA2,
Z0103MA2AL2, Z0103MA5AA4, Z0103SA1AA2