Part Number : MC33078
Function : DUAL HIGH-SPEED LOW-NOISE OPERATIONAL AMPLIFIER
Package :DIP, SOIC 8 Pin Type

Maker : Texas Instruments

Pinouts :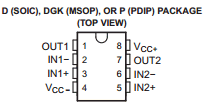 Description :
The MC33078 is a bipolar dual operational amplifier with high-performance specifications for use in quality audio and data-signal applications. This device operates over a wide range of single- and dual-supply voltages and offers low noise, high-gain bandwidth, and high slew rate. Additional features include low total harmonic distortion, excellent phase and gain margins, large output voltage swing with no deadband crossover distortion, and symmetrical sink/source performance.
Features
• Dual-Supply Operation . . . ±5 V to ±18 V
• Low Noise Voltage . . . 4.5 nV/√Hz
• Low Input Offset Voltage . . . 0.15 mV
• Low Total Harmonic Distortion . . . 0.002%
• High Slew Rate . . . 7 V/µs
• High-Gain Bandwidth Product . . . 16 MHz
• High Open-Loop AC Gain . . . 800 at 20 kHz
• Large Output-Voltage Swing . . . 14.1 V to –14.6 V
• Excellent Gain and Phase Margins
Datasheet PDF Download :

Others datasheet of same file :
MC33078D, MC33078DG4, MC33078DGKR, MC33078DGKRG4