Part Number : TDA1519, TDA1519P
Function : 2 x 6 W stereo car radio power amplifier.
Maker :
Philips Electronics
Pinouts :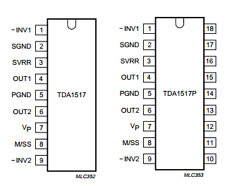 Description :
The TDA1517 is an integrated class-B dual output amplifier in a plastic single in-line medium power package with fin (SIL9MPF) and a plastic heat-dissipating dual in-line package (HDIP18). The device is primarily developed for multi-media applications.

TDA1519 Datasheet