Part Number : TM1628
Function : LED Controller, Driver
Package : SOP 28 Pin type
Maker : Titan Micro Electronics

Pinouts :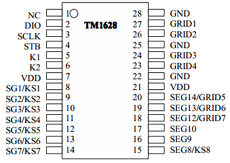 Description :
TM1628 is an LED Controller driven on a 1/7 to 1/8 duty factor. Eleven segment output lines, six grid output lines, 1 segment/grid output lines, one display memory, control circuit, key scan circuit are all incorporated into a single chip to build a highly reliable peripheral device for a single chip microcomputer. Serial data is fed to TM1628 via a three-line serial interface.

Housed in a 28-pin SO Package, devices pin assignments and application circuit are optimized for easy PCB Layout and cost saving advantages.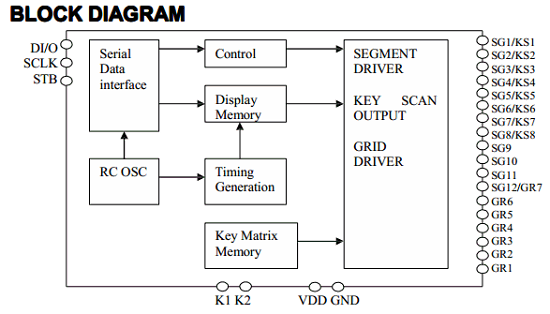 Features
• CMOS Technology
• Low Power Consumption
• Multiple Display Modes (12 segment, 6 Grid to 11 segment, 7 Grid)
• Key Scanning (8 x 2 Matrix)
• 8-Step Dimming Circuitry
• Serial Interface for Clock, Data Input/Output, Strobe Pins

Datasheet PDF Download :




Others datasheet of same file : TM-1628