Part Number : SD4841
Function : SD4840 Thru SD4844 / CURRENT MODE PWM CONTROLLER WITH BUILT-IN HIGH VOLTAGE MOSFET
Maker :
Silan Microelectronics
Pinouts :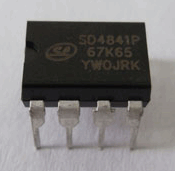 Description :
SD4840/4841/4842/4843/4844 is a current mode PWM controller with low standby power and low start current for power switch. In standby mode, the circuit enters burst mode to reduce the standby power dissipation.


The switch frequency is 67KHz with ±2.5 KHz jitter frequency for low EMI.
Datasheet PDF Download :

Others datasheet of same file : SD4840,SD4840P67K65,SD4841,SD4841P67K65,SD4842