Part Number : IRM-3638F13
Function : Infrared Remote-control Receiver Module
Maker :
EVERLIGHT
Pinouts :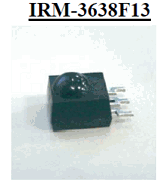 Description : Features
‧High protection ability against EMI .
‧Circular lens to improve the receive characteristic.
‧Line-up for various center carrier frequencies.
‧Low voltage and low power consumption.
‧High immunity against ambient light.
‧Photodiode with integrated circuit.
‧TTL and CMOS compatibility.
‧Long reception distance.
‧High sensitivity.
‧Suitable min. burst length≧6 or 10 pulses/burst.
‧ Pb free.
‧ The product itself will remain within RoHS compliant version
Datasheet PDF Download :

Others datasheet of same file : IRM-3638F13