Part Number : HPR118
Function : HPR1XX SERIES DC/DC CONVERTER
Maker :
C&D TECHNOLOGIES
Pinouts :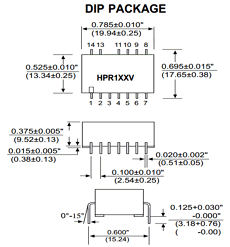 Description :
POWER: 0.75 Watt
OUTPUT: Single Output
SIZE: Multiple Package Styles
The HPR1XX Series uses advanced circuit design and packaging technology to deliver superior reliability and performance.

A 170kHz push-pull oscillator is used in the input stage. Beat frequency oscillation problems are reduced when using the HPR1XX Series with high frequency isolation amplifiers.
Datasheet PDF Download :

Others datasheet of same file : HPR100,HPR100V,HPR100V/W,HPR100W,HPR101