Part Number : AXP209
Function : Enhanced single Cell Li-Battery and Power System Management IC / 6mm x 6mm 48-pin QFN
Maker :
Unspecified
Pinouts :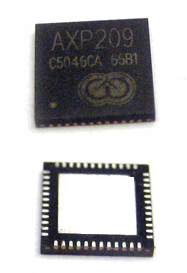 Description :
AXP209 is a highly integrated power management chip system for single-cell lithium batteries (lithium-ion or lithium polymer) and the need for multiple power conversion.

Output applications, providing easy to use yet flexible configuration of a complete power solution to fully meet today's increasingly complex application processing.

System for precise power control requirements.
Datasheet PDF Download :

Others datasheet of same file : AXP209