Part Number : APL5536
Function : Dual Channel 300mA Low Dropout Linear Regulator
Maker :
Anpec Electronics
Pinouts :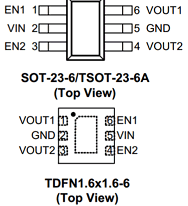 Description :
General Description
The APL5536 i s a dual channel low dropout linear regulator, which operates from 2.5V to 5.5V input voltage and delivers up to 300mA output current at each channel.
Typical dropout voltage is only 270mV at 300mA. The APL5536 with low quiescent current, high PSRR, and low noise is ideal for battery powered system appliances.
Other features include logic-controlled shutdown mode, over-temperature protection, short-circuit current-limit, and current-limit protection to ensure specified output current. The APL5536 is available in SOT-23-6, TSOT-23-6A, and TDFN1.6x1.6-6 packages.
Features
• Dual Regulator Outputs
• Low Dropout Voltage: Typical 270mV at 300mA
• Wide Input Voltage Range: 2.5V to 5.5V
• Low Quiescent Current: Typical 68mA
• High PSRR: 70dB at 1kHz
• Low Shutdown Current: <1mA
• Shutdown Function
• Output Current-Limit Protection
• Short-Circuit Current-Limit Protection
• Over-Temperature Protection
• Lead Free and Green Devices Available(RoHS Compliant)
Datasheet PDF Download :

Others datasheet of same file : APL5536